There are many reasons you may need one of our restorative services. Maybe you are experiencing pain in your mouth for the first time. Perhaps you have a gap or missing teeth that makes you embarrassed to smile. Or possibly you want to replace your metal fillings with natural, tooth coloured ones. Whatever your dental problem is, we can use the following restorative services to fix it:

Tooth Coloured Fillings

Tooth coloured fillings have always presented a more aesthetically pleasing alternative to traditional silver and amalgam fillings. Thanks to changes in recent dental technology, tooth coloured fillings are now also stronger and more durable then their metallic counterparts. While silver and amalgam fillings may crack and leak, irritating the gums and nerves in the tooth, smaller tooth coloured fillings may last a lifetime without ever requiring repair, while larger ones can last for many years with the appropriate care. More importantly, tooth coloured fillings feel and function more like your natural teeth, allowing you to eat, speak, and smile with increased confidence and comfort. If you have silver or amalgam fillings, talk to us during your visit about how tooth coloured fillings can improve your smile and your dental health.

Crowns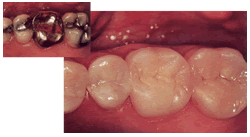 Your teeth are strong, but over time they can crack, break, decay or simply wear down. We can restore a natural, healthy-looking smile by placing dental crowns over these problem teeth.

While fillings can restore small defects in teeth, crowns offer the most durable and strongest method to restore a tooth for the long term. Designed to fit snugly and function as normal teeth, crowns also protect weak teeth from further damage while preserving the correct alignment of your jaw's natural bite. We may also apply crowns to close spaces between teeth, change the angulations of teeth, and improve the appearance of damaged teeth.

Crowns can usually be designed and fitted in two appointments that are roughly one week apart. During the first visit, we create an impression of the existing tooth in order to create the crown and in the next visit, place the crown. Most crowns are porcelain, but they can also be constructed from composite or gold, depending on the state of your dental health and your preferences. When you take care of your crowns, they'll last for several years.
| | |
| --- | --- |
| Before | After |
| | |
Bridges


As its name implies, this dental appliance literally bridges the gap where a tooth is missing. The bridge consists of a set of artificial teeth that is customized to fit snugly and comfortably in your mouth. When we apply a bridge, we place support crowns on the healthy teeth on each side of the missing teeth and then anchor the bridge to those teeth. The bridge is fixed into place so that it cannot fall out or be removed by hand. The result is a healthy looking smile that is remarkably natural looking and extremely strong, allowing you to eat, speak and smile with full confidence.
| | |
| --- | --- |
| Before | After |
| | |